The Milwaukee Bucks of the 2000s, in some ways, paralleled Nas' rise, fall, and rise in the 1990s.
Nas' 1994 debut album, Illmatic, was and still is considered one of the most influential rap albums ever conceived. The success that comes with creating a musical masterpiece at 20 years of age raises expectations to mesosphere levels.
It's no surprise that Nas' three follow-ups sprinkled throughout the rest of the decade failed to match or exceed his first taste of critical acclaim. Then Stillmatic dropped in 2001 (yes, I said dropped), and Nas' lyrical return to form catapulted him back to the top of rap's Mount Rushmore.
Like Nas' 90s-00s roller coaster ride, the Bucks started the 2000s on a high note unmatched over the previous 15 years (Game 7 of the Eastern Conference Finals in 2000-01), sailed on a sea of mediocrity for eight years (reaching the playoffs and losing 50 games three times apiece, never breaking the 42 win mark), and capped off the decade with 46 wins and a near-upset second round trip despite the absence of their best player (Andrew Bogut).
The 2000s produced a combined record of 380-440 (.463), which looks like an improvement compared to its neighboring decade and an embarrassment compared to the nutter generations of Bucks teams. There was quite a lot to dislike about the 2000s, but the highs were high enough that there was something unforgettable about the decade.
PG – Sam Cassell (2002-03)
22.3 PER, 19.7 PPG (47% FG, 36.2% 3FG, 86.1% FT), 5.8 APG, 4.4 RPG, 1.1 SPG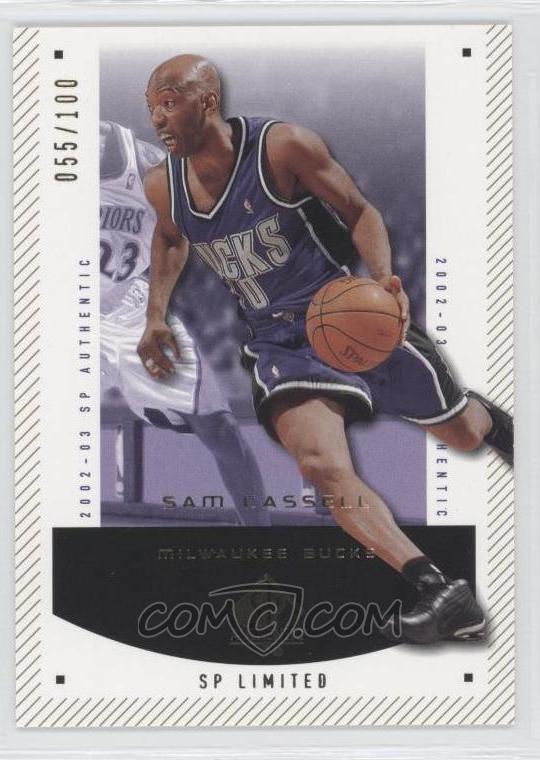 Sam Cassell's ability to tailor his game to a team's need was one of his most enduring traits as a player. You can make solid arguments that Cassell's best season as a true facilitator in Milwaukee was in 1999-00 (18.6 PPG, 9 APG), but Sam I Am aged like a fine wine through the early 2000s, developing into a very solid shooter while taking care of the ball at an increasingly high rate.
Cassell posted his lowest per-game assist total as a Buck during the 2002-03 season. However, he also set a then-career high PER that ranks 10th best in franchise history, and experienced a career best 11.5% turnover rate (per 100 plays). Much of that jump in scoring productivity can be attributed to his improved accuracy along the perimeter (a 6% 3FG increase compared to the 2000-01 Finals season), and the third highest field goal percentage of Cassell's career.
Sam Cassell followed up his best offensive season with the Bucks in 2002-03 with an even better showing as Kevin Garnett's running mate in Minnesota, which earned him Second Team All-NBA honors and an All-Star roster spot in 2003-04. Cassell was always a solid NBA player, and it's fitting that he won a championship in 2008 while sharing the court with Ray Allen and KG in Boston.
SG – Ray Allen (2000-01)
22.9 PER, 22 PPG (48% FG, 43.3% 3FG, 88.8% FT), 4.6 APG, 5.2 RPG, 1.5 SPG
If the 2000-01 Bucks were playing in a Call of Duty match, Ray Allen would be that sniper that you hated to play against but loved to have on your team. The man who once played Jesus Shuttlesworth on the big screen played third fiddle on a 52 win team (by usage rate), and was at his peak as an assassin in purple and green during that run to the Eastern Conference Finals.
Allen was a deadly efficient shooter in 2000-01, putting up the second best true shooting percentage (61%) in team history. His PER also ranked seventh on the team's all-time list, but that may be unfair when the only names above you are five Kareem Abdul-Jabbars and one Marques Johnson.
Allen's Bucks career high in PER, win shares (13.7), shooting percentage (true and standard), rebounds per game, assists per game, and steals per game were all set during the 2000-01 season. Amazingly, Allen's usage rate (24.4) in 2000-01 ranked a shade below Sam Cassell (24.9) and a handful of points behind Glenn Robinson (29.2).
SF – Glenn Robinson (2000-01)
20.1 PER, 22 PPG (46.8% FG, 29.9% 3FG, 82% FT), 6.9 RPG, 3.3 APG, 1.1 SPG
Glenn Robinson put up quite a few decent years in Milwaukee, but he was never more integral to the team's success than in 2000-01. The Big Dog was the stag scorer that year, topping all teammates in play usage (29.2) and finishing the year tied with Ray Allen for the team scoring lead.
Allen's perimeter deadliness was the perfect complement to Robinson's combination of mid-range shooting and post moves. Having Allen and Cassell pairing in the back court also helped Robinson set career highs in rebounds per game and rebounding percentage (10.6%). The Big Dog's performance that season was simply a continuation of what he had done throughout the 1990s, and he rose to the occasion when an opportunity for success finally presented itself after years of team futility.
PF – Charlie Villanueva (2008-09)
18.6 PER, 16.2 PPG (44.7% FG, 34.5% 3FG, 83.8% FT), 6.7 RPG, 1.8 APG
Other than a handful of seasons featuring Vin Baker dunks and turnaround jumpers, the power forward position in Milwaukee has been an innocuous vacuum of suck over the past 20 years. Case in point: Charlie Villanueva was the best the team had to offer at the position in the 2000s.
Villanueva's numbers in 2008-09 were certainly respectable, and no doubt would've been a great asset to the 2009-10 playoff team and the one that followed this past season. Not coincidentally, Charlie V had the best season of his career in his last as a Buck, posting career highs in PER, points, free throws, assists, and rebounds, which prompted the Detroit Pistons to bet $35 million on the consistently inconsistent forward.
Charlie V's Kurt Thomas showed at times during 2008-09, and the flashes of athleticism mixed with a capable mid to long-range jumper made it somewhat difficult to see Villanueva bolt for Detroit. He was never going to be a solid, regular starter, in part because of his traffic cone-like defense, but for a few seasons Villanueva put up decent numbers of awful Bucks teams.
C – Andrew Bogut (2009-10)
20.7 PER, 15.9 PPG (52% FG, 62.9% FT), 10.2 RPG, 2.5 BPG
Andrew Bogut solidified himself as an elite defensive center by the time the 2009-10 season rolled around, and all signs pointed to the big Aussie finally living up to the offensive expectations that accompanied him as the top overall pick in the 2005 NBA Draft. Then came April 3, 2010 (I won't link to it; we've all seen it enough already), and Bogut has been picking up the pieces of his game (and right arm) since.
Looking back on the 2009-10 campaign, the Bucks success on both ends of the floor was contingent on Bogut's presence and prowess. Bogut's PER skyrocketed more than 2.5 points higher than any other point in his career, and he also took on a larger role on offense, registering a usage rate (23.3) a full 3.1 points higher than his second highest total.
No one alters an opposing team's offensive game plan like a smart big in the middle, and Bogut has been the anchor to a perennially stingy defense under Scott Skiles. He finished the 2009-10 season with the second most blocks in the league and received Third Team All-NBA honors, but Bucks fans will always be left wondering what could have been had Bogut released himself from that fateful dunk a couple seconds earlier in Game 69 against the Phoenix Suns.
Previous articles in this series:
Tags: 2000-01 Milwaukee Bucks Andrew Bogut Charlie Villanueva Glenn Robinson Milwaukee Bucks All-time Roster Ray Allen Scott Skiles