Disappointment and frustration are graded on a "team expectations" curve. It's much easier to stomach 50+ losses in the NBA regular season (as was the case with most 1990s Milwaukee Bucks teams) when you know they're coming. However, high expectations met with the same failures (such as the 2001-02 Bucks) usually produce a swell in finger pointing, red-faced talk radio callers, and declarations such as, "I'm done with the NBA; when does the MLS preseason start?"
Fans remember winning, and the best teams their franchise has ever put together. But they also remember losing and the worst decisions in franchise history. The 2001-02 Bucks and 2009-10 Bucks will always allow fans to reminisce, albeit for completely different reasons.
Between those two surprise seasons, the Bucks of the 2000s experienced NBA purgatory, playing for five different coaches, and needing just 40, 41, and 42 wins to earn hastened first round playoff exits three times in four years (2002-2006). The decade started with the best of times, and quickly morphed into the worst of times before starting a gradual decline into indifferent times.
PG – T.J. Ford (2005-06)
13.1 PER, 12.2 PPG (41.6% FG, 33.7% 3FG, 75.4% FT), 6.6 APG, 4.3 RPG, 1.4 SPG
A career threatening injury and a bit of water behind the ears were major variables working against T.J. Ford's career progression in Milwaukee. Ford's rookie and sophomore seasons weren't Lee Mayberry-esque in their disappointment, but Bucks point guard play in the 2000s was fairly solid and Ford's shooting deficiencies left him as the odd man out on a list featuring Sam Cassell, Mo Williams, Ramon Sessions, and Brandon Jennings.
Coming back from a cringe-worthy fall that severely damaged his spinal column (the 2000 Bucks have an impressive highlight reel of gruesome injuries), it was definitely impressive that Ford averaged a tick under 36 minutes per game in 2005-06. Built similarly to Brandon Jennings, Ford was more of a pass-first point guard with the shooting range of Rajon Rondo.
Ford has since put together a few solid years in Toronto and as a backup in Indiana, and would actually be a decent compliment to Jennings on the current Bucks, if the team hadn't already hoarded a third of the NBA's backup point guards.
SG – Charlie Bell (2006-07)
13.1 PER, 13.5 PPG (43.7% FG, 35.2% 3FG, 78% FT), 3 APG, 2.9 RPG, 1.2 SPG
Charlie Bell was a solid bench player for most of his Bucks career, primarily serving as a defensive plug to the sieve that was Michael Redd while also contributing an occasional spot up three. When Redd went down with a knee strain in January 2007, Bell was thrust into starter's shoes that were far bigger than his feet.
Receiving 10 minutes above his career per game average, Bell further proved the assumption that he was a one-trick pony incapable of creating shots off the dribble or getting any penetration into the lane. Roughly 37% of all his shots that season (11.9) were from behind the arc; the same can be said about 28% of his makes (5.2). Just as a point of reference, Redd's splits were 30% and 22%, respectively (19.3, 5.8).
It's unfair to criticize Bell for falling short of Redd's scoring numbers, especially when the shooting guard position was manned by Ray Allen before Redd became option No. 1. But on a team that finished with 28 wins, everyone plays a failing part. Thankfully, Bell's underwhelming production came at a low price ($744,551).
SF – Bobby Simmons (2005-06)
13.8 PER, 13.4 PPG (45.3% FG, 42% 3FG, 82.5% FT), 4.4 RPG, 2.3 APG, 1.1 SPG
Never sign a Los Angeles Clippers player to a long term deal after a "breakout" season at age 25.
Larry Harris struck out a notable amount of times in his tenure as Bucks General Manager, but no free agent signing matches the rank odor of the 5 year, $47 million deal he gave Bobby Simmons before the 2005-06 season. Behind only Michael Redd and Jamaal Magloire, Simmons was the third highest paid player on that Milwaukee Bucks team ($8 million).
Despite finishing a distant second to Redd in scoring (25.4 PPG vs. 13.4 PPG) and true shooting percentage (57.4% vs. 55.9%), Simmons really didn't bring anything else to the table beyond an occasional hot streak of mid and long range jumpers. At best, his game was reminiscent of a bankrupt man's Luol Deng; versatile, but very streaky.
Simmons and his bloated corpse of a contract foreshadowed the NBA's current lockout predicament: his solid 2004-05 numbers belied his previous four years of underwhelming production, and the reward was overcompensation without any indication that he was capable of sustainable quality play.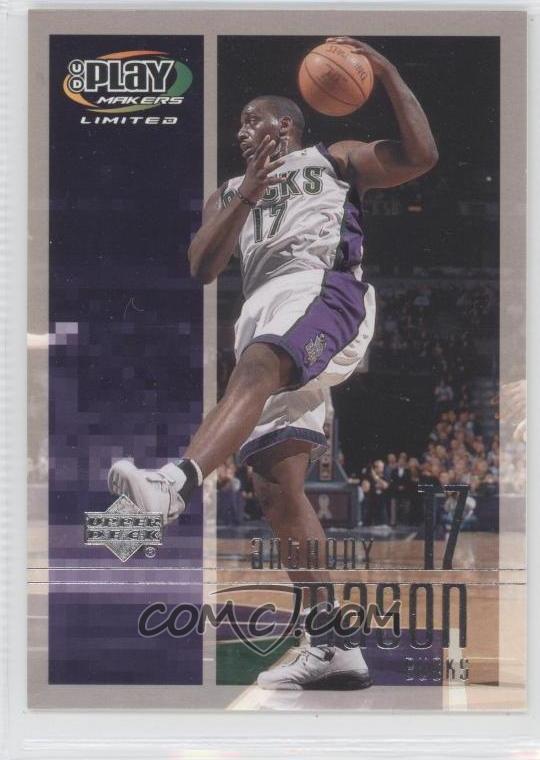 PF – Anthony Mason (2001-02)
12.9 PER, 9.6 PPG (50.5% FG, 69.7% FT), 7.9 RPG, 4.2 APG,
There's a little known drinking game making the rounds in Milwaukee bars. Anytime you mention Anthony Mason while the alcohol is flowing freely, you're required to take a shot of tequila, gain 30 pounds, and start telling people your friends don't know how to take shots.
Fresh off Game 7 of the 2000-01 Eastern Conference Finals, the Milwaukee Bucks needed a workhorse, defensive-minded big man capable of fitting seamlessly into an already stacked rotation. What they got was a miniature Eddy Curry capable of deflating a basketball with a single touch.
Mason's poisonous impact on the Bucks' chemistry, among other things, led to an 11 win drop from 2000-01 to 2001-02. Likewise, his numbers plummeted, and the team's snowball ride down Roster Implosion Mountain began.
Glenn Robinson was shipped to Atlanta after the season ended. Ray Allen was sent to Seattle halfway through the 2002-03 season. Sam Cassell and Ervin Johnson were wearing Minnesota Timberwolves jerseys by the time the 2003-04 season began.
Much like Seattle's relationship with Clayton Bennett, Anthony Mason will always hold a special place in Bucks fan's hearts. It could just be coincidence that section of the heart looks strikingly similar to Guantanamo Bay.
C – Francisco Elson (2008-09)
10.3 PER, 3.4 PPG (49.1% FG, 84.6% FT), 3.9 RPG, .6 BPG, 2.4 FPG
Throughout the 2000s, Bucks centers often were stereotypically cast in the role of defensive stalwarts. Ervin Johnson, Scott Williams, Dan Gadzuric (at least early on), and Andrew Bogut were heavily counted on the set up camp in the lane and simply crash the boards with max effort. Their ability to grab the ball as it fell away from the hoop trumped their deficiencies getting it to do the opposite. Francisco Elson could barely do either.
Elson served as Bogut's main spell during the 08-09 season, playing just 16 minutes on average. Still, he started 23 games that year, and was essentially just a body to fill space on the court (10.8% usage rate). He did have some use as a defender, as nearly all the Bucks' 2000-era centers did, but even in that department he wasn't fully dependable.
In baseball, a three-outcome hitter is one that is almost always guaranteed to strike out, hit a home run, or walk (a la a decent Adam Dunn). Elson was the basketball version of this, as he would either miss a shot, turn the ball over, or get called for a traveling violation any time the ball miraculously found his hands.
Previous articles in this series:
Tags: All-time Teams Free Agency John Hammond Milwaukee Bucks Milwaukee Bucks Defense Scott Skiles T.J. Ford