Milwaukee Bucks 2023-2024 full 82-game NBA schedule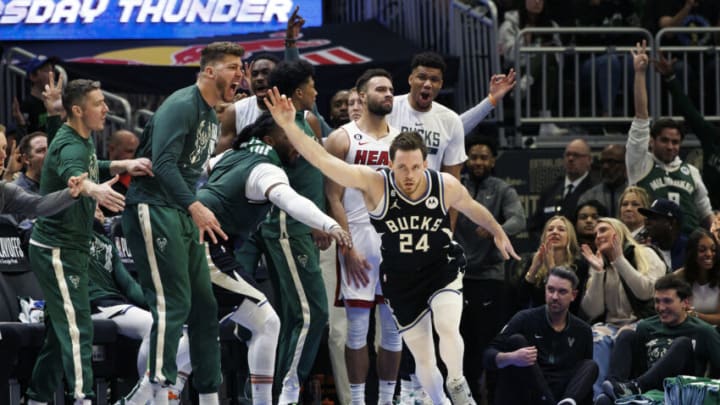 Milwaukee Bucks, Pat Connaughton. Mandatory Credit: Jeff Hanisch-USA TODAY Sports /
As the 2023-2024 NBA season nears, the Milwaukee Bucks are looking to build off of their disappointing finish to last year.
After finishing the regular season with the best record in the NBA for the third time in the past five years, they were subsequently bounced out of the playoffs by the Miami Heat in five games. The team can breathe a sigh of relief that a large portion of last year's roster will be returning this year, but that just means that the expectations will still remain incredibly high for the Milwaukee Bucks this upcoming season.
As the NBA released the full 82-game schedule earlier today, Milwaukee fans are anxious for their Bucks to get back to the hardwood and have amnesia of last year's unfortunate finish. With a bevy of prime-time games on the docket for the Milwaukee Bucks, fans will be able to watch the Bucks to see how this year's team fares against the NBA. Here is everything you need to know about the team's 2023-2024 season schedule.
Milwaukee Bucks 2023-24 National TV NBA regular-season schedule
The Milwaukee Bucks finally know who their opponents will be for this season, and there is no shock the Bucks are on prime-time TV for plenty of games. The first three games of the season will feature matchups against three strong Eastern Conference teams in the Philadelphia 76ers, Atlanta Hawks, and Miami Heat. With how successful the Milwaukee Bucks have been, there is no surprise they have plenty of nationally televised games for fans to watch everywhere.
October 26, 2023: vs Philadelphia 76ers, 7:30 EST, TNT
November 3, 2023: vs New York Knicks, 7:30 EST, ESPN
November 22, 2023: at Boston Celtics, 7:30 EST, ESPN
November 28, 2023: at Miami Heat, 7:30 EST, TNT
December 25, 2023: at New York Knicks, 12 EST, ESPN (Christmas Day)
January 4, 2024: at San Antonio Spurs, 7:30 EST, TNT
January 11, 2024: vs. Boston Celtics, 7:30 EST, TNT
January 17, 2024: at Cleveland Cavaliers, 7:30 EST, ESPN
February 6, 2024: at Phoenix Suns, 10 EST, TNT
February 15, 2024: at Memphis Grizzlies, 8:30 EST, TNT
February 25, 2024: at Philadelphia 76ers, 1 EST, ABC
March 1, 20204: at Chicago Bulls, 10 EST, ESPN
March 6, 2024: at Golden State Warriors, 10 EST, ESPN
March 8, 2024: at Los Angeles Lakers, 10 EST, ESPN
March 17, 2024: vs Phoenix Suns, 1 EST, ABC
March 20, 2024: at Boston Celtics, 7:30 EST, ESPN
March 26, 2024: vs Los Angeles Lakers, 7:30 EST, TNT
April 3, 2024: vs Memphis Grizzlies, 7:30 EST, ESPN
April 9, 2024: vs Boston Celtics, 7:30 EST, TNT
Milwaukee Bucks 2023-24 regular season schedule
With seven of their last nationally televised games being against playoff teams from a year ago, the Milwaukee Bucks will be greatly tested in front of a national audience as the season ends. A heavy Eastern Conference schedule to begin the year will also be beneficial for the Milwaukee Bucks to see where they stack up against other teams early in the season.
Milwaukee Bucks NBA In-Season Tournament schedule:
There has been major anticipation around the start of the season with it being the first year the league will have an in-season tournament.  The two-part in-season tournament will begin on November 3, and each team will play four regular-season games that count towards their record, except the championship game will not count towards the overall record. The first part will be a group play style, with the second part being a knockout round. The Milwaukee Bucks are in the East B pool, which includes the New York Knicks, Miami Heat, Washington Wizards, and Charlotte Hornets. Here are the scheduled games for the Milwaukee Bucks in the In-Season Tournament:
November 3, 2023: vs New York Knicks
November 17, 2023: at Charlotte Hornets
November 24, 2023: vs Washington Wizards
November 28, 2023: at Miami Heat
They will have a chance at revenge when they meet the Miami Heat later in November on TNT and will have their matchup with the Knicks on ESPN. However, these opponents are all teams Milwaukee can easily defeat, with the Wizards and Hornets finishing 12th and 14th respectively in the East last year. These early-season matchups will be a good way to gauge where the Milwaukee Bucks are as a team and what they need to improve upon throughout the year.
Bucks preseason schedule:
Before things fire up for this year's NBA season, the Milwaukee Bucks will have the chance to get things started in the preseason. With their season-opener slated for October 26 against the Philadelphia 76ers, the Bucks won't have too much time to get themselves ready for the year. Thus, these three preseason games will be pivotal for them to prepare for the season.
October 8: vs Chicago Bulls
October 15: at Los Angeles Lakers
October 17: at Oklahoma City Thunder
With minimal time to prepare, the Milwaukee Bucks will have to make sure they find their rhythm before taking on the Sixers to begin the year on October 26.
Stay tuned for more Milwaukee Bucks news and analysis.